shaping the future with 
high strength
plastics
With the industrial revolution around the world, there came a need for a material which was light-weight, durable and provided unmatched design flexibility.
Thermoset Resins
with its unique capability to cure at room temperature became the preferred material for applicators. Today, Thermoset Resins and Fiber Composites have a wide range of applications – right from clothing buttons to space shuttles.
why choose resin composites
Under our keen surveillance from 1978
Thermoset
Resin Plant
The founders of Ruia Chemicals saw great potential in Thermoset resins (unsaturated polyester resin) – a key component of FRP. In 1978, they set up the first resin plant in Kolkata based on indignieous technology. Being the first movers, Ruia Chemicals introduced polyester resins in varied sectors by replacing traditional materials. For example, we convinced M/s Philips India to use our polyester resin in the manufacture of electric chokes. Indian Railways also started replacing various components with resin composites for their numerous applications.
Today, Ruia Chemicals produces over 30 different grades of Unsaturated Polyester Resins
catering to a wide variety of application industries like FRP Pipes, FRP Tanks, FRP Components in automobile industry, marine industry, repair and rehabilitation work, monuments, statues and numerous other products. Along with this, we have also made significant contributions in the transformative endeavour of IndianOil Corporation and their use of Fiber Reinforced Plastics.
With 40+ years of experience, Ruia Chemicals is the leading Polyester Resin manufacturer in East India. Our R&D Team works diligently to develop products as per the requirements of our customers.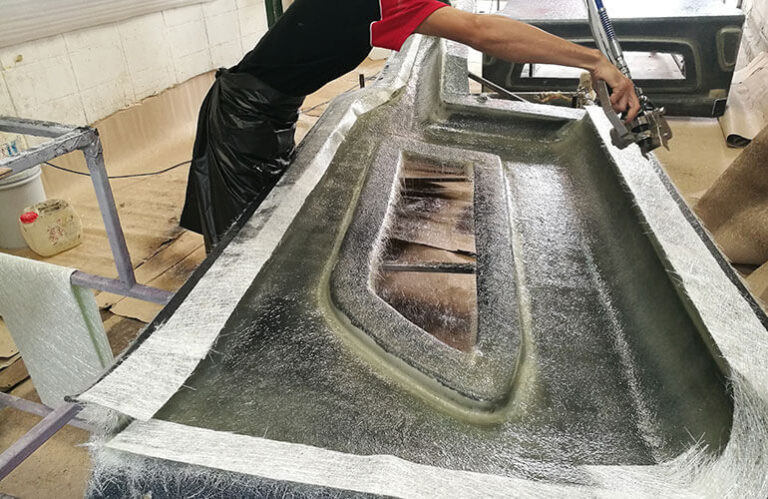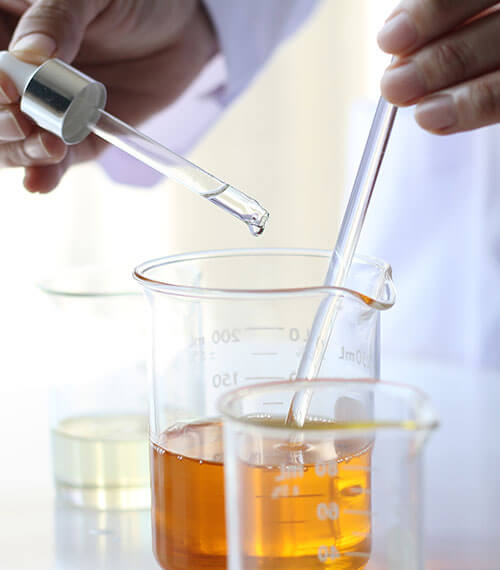 As polyester resin manufacturers, we make sure that the polyester resins under our firm abide by the the caliber set by the Bureau of Indian Standards which is IS 6746. We also have a team of excellent researchers along with well-equipped laboratories that promise standard unsaturated polyesters resins and also cater to client requirements by conducting tests like confirming ASTM C 581 etc. Moreover, we have in-house provisions for conducting all types of tests required for polyester resins.
here's why you should choose us
Why
Us
diversified uses
varied
industrial applications
Aerospace
Transportation
Defense
Oil Industry
Sports
Appliances
Art and Craft
Chemical Industry
Repair & Maintainence
Public Utilities
Buildings
Architectures
PRODUCT RANGE
UNSATURATED
POLYESTER RESIN
As one of the leading Polyester Resin Manufacturers in India, our 'FIBREBOND' series of polyester resins cater to the different requirements of our customers. Below is a concise list of our resin grades along with their applications.
General Purpose Resin
FIBREBOND
333
Fibrebond 333 is an orthophthalic based general purpose polyester resin suited for most ordinary FRP applications. It can be used to fabricate numerous products including fibre glass reinforced equipment, general storage tanks, doors, window panels, drainage pipe, resin statues, FRP sheets, photo laminations and others.
Fiber Glass Reinforced Equipment

General Storage Tanks
Drainage Pipes
Isopthalic Resin
FIBREBOND
347
FiberBond 347 Polyester resin is based on Isopthalic Acid. It provides improved water and chemical resistance, and higher temperature of deflection under load – imparting good mechanical and electrical properties to the fabricated components. Higher flexural and impact strengths, toughness and crack resistance coupled  with better chemical resistance to most common environments make Fibrebond 347 ideally suited for making fiber glass reinforced chemicals process equipment, storage tanks, tankers, exhaust hoods, panel ceiling etc.
Fiber Glass Reinforced Equipment

Storage Tanks
Exhaust Hoods
Marine Grade Resin
FIBREBOND
347M
FibreBond 347M is a marine grade polyester resin based on isophalic acid. It has similar properties to isopthalic resin with additional certification for use in the Indian Marine industry. It is extensively used to manufacture fiber-reinforced composites used in different applications of the marine industry. Some of the applications include manufacture of boats, large cargo ships, repairs to boat hulls, boat decks and blades.
Boat Manufacture
Cargo Ship Manufacture
Hull Repair
Rooflite Resin
FIBREBOND
3241
Fibrebond 3241 is an orthophalic based translucent polyester resin used to make rooflite sheets. It rapidly wets the glass fiber and imparts good mechanical and electrical properties. It has a high impact strength and water resistance. It is ideally suited to make rooflite sheets, domes and clear-cast laminates.
Rooflite Sheets
Rooflite Domes
Clear-cast Laminates
Gelcoat Resin
FIBREBOND
323
Fibrebond 323 is a gelcoat resin which is applied as the finishing layer for fiber re-inforced plastics. It makes the surface glossy giving it a smooth finish. It protects the surface from scratches and water damage. It is ideally suited as the final layer for all fiber re-inforced products including FRP boat hull, FRP chairs, FRP repair and maintainence.
FRP Boat Hull
FRP Chairs
FRP Repair & Maintenance
Food Grade Resin
FIBREBOND
331
Fibrebond 331 is a orthophalic based polyester resin. It's non-toxic and non-polluting characteristics allows its usage in the food industry. It is used to fabricate numerous fibre glass reinforced plastic products including water tanks, food containers and food trays.
Water Tanks
Food Containers
Food Trays
Fire Retardant Resin
FIBREBOND
401
Fibrebond 401 is a fire-retardant polyester resin which aids in extinguishing flames. These resins can be divided into two separate grades – halogen & halogen-free. Halogen based Fire Retardant Resins perform better and are less expensive than the halogen-free counterparts. However, they are more toxic to the environment. Halogen Free Fire Retardant Resins are 'greener' resins. They cause less pollution and smoke, however they are more expensive to manufacture. These resins are extensively where fire hazard is critical – like petroleum industry and transportation industry (railway coaches)
Fire Hazard
Petroleum Industry
Transportation Industry
Bisphenol Grade Resin
FIBREBOND
501
Fibrebond 501 is based on Bisphenol A. These resins have excellent corrosion resistance to acids, mild alkalis, salts and solvents. It is ideally suited for making acid storage tanks, acid pipes, and chemical processing units.

Acid Storage Tanks
Acid Pipes
Chemical Processing Units
DMC Grade Resin
FIBREBOND
554
Fibrebond 554 is an unsaturated polyester resin used in manufacturing Dough Moulding Compounds (DMC). These DMC compounds are highly viscous and are used to develop low-cost electrical panels, automobile components and structural fittings using compression moulding, injection moudling or transfer moulding.
Electrical Panels
Automobile Components
Structural Fittings
SMC Grade Resin
FIBREBOND
555
Fibrebond 555 is an unsaturated polyester resin specially designed for moulding sheets using compression moulding technique. It is used in conjunction with the long glass fibers to produce sheet moulding compounds. SMC compounds thus developed are used to manufacture low-cost electrical panels, automobile components and structural fittings.
Electrical Panels
Automobile Components
Structural Fittings
Vinyl Ester Resin
FIBREBOND
701 / 703
Fibrebond 701 is a vinyl ester resin which is based on epoxy resin. It has a better chemical resistance to a range of acids, alkali, bleaches, and solvents. Thus it is most suitable for all kinds of chemical environments.. Fibrebond 701 is extensively used in chemicals processing industry applications. It is ideally suited for making fibreglass reinforced chemicals process equipments, chemical storage tanks, tankers, exhaust hoods, panel ceiling etc. 
Fibrebond 703 is a super-vinyl ester resin based on premium grade epoxy resin. It provides improved chemical resistance at elevated temperature over vinyl ester & bisphenol fumarate resins.  It is ideally suited for making fibreglass reinforced chemicals process equipments, chemical storage tanks, tankers with higher degree of chemical resistance.

Chemical Storage Tank
Exhaust Hoods
Chemical Resistant Tanker